5, 500 miles driven: From Southern Utah to Bakersfield, CA to the Mexico/California border to Moopark, CA & lots of destinations between.
Dr. Peppers consumed: Innumerable
Fall 2012 Playlist: Rocked out!
..............................................
Here are some of my favorite moments:
Student: 'What is there to do around Cedar City?'
Me: 'We have 4 seasons, so there's always outdoor activities...'
Student, cutting me off: 'You mean like the hotel?'
I wanted to reply, 'Yes, We have a Four Seasons hotel in Cedar City & you can charge room service to your campus account. Party on."
Next to Stanford at a college fair. I often get the pitiful glances from students & parents in line to visit Stanford that must mean, "Oh, how sad. Look at that school that's not Stanford." At this particular college fair I actually had a mother give me the pitiful look & then utter the words, "Oh, It's like being the bridesmaid." SAY WHAT?! What I should have responded, "Oh, It's like being left at the alter when your son doesn't get into Stanford."
Siri did me no justice in Redondo Beach this fall. She sent me to a really nice neighborhood but NO Redondo Beach High School. Made me cut it really close on time & arrived to a full parking lot & no cake left at the dinner. As you will see - food & Dr. Pepper are a common theme to surviving travel season.
Got delayed on a flight going into Las Vegas during election season because Air Force One was halting ALL air traffic for 4 hours. That President! Got to Vegas at 10PM, picked up the rental car & had to drive to Mesquite, NV for a stay the ghetto Casablanca Resort. Just me & the old people gambling on a Sunday night.
Poshest college fair: either Laguna Beach with an amazing dinner or J Serra Catholic High School which fed us dinner + had free popcorn & pretzels during the fair for all students & college reps.

[Surprisingly I didn't gain 15 pounds this season -- It just sounds like it.]
Ghetto college fair: The one that made you sign a waiver NOT holding the school district accountable should anything disappear from your table/area during the college fair.
...................................................................
In no particular order - Here are my Fall '12 adventures in pictures:
Got to present to every English class at Whitney High School in Cerritos, CA. They had a book written about them called, "School of Dreams". Made a complete fool of myself as I used my classic line, "SUU is far enough away from home to be away from Mom, yet close enough to run home on a long weekend & raid Mom's cupboard for more Ramen noodles." 75% of the students were Asian. It quickly was changed to mac n' cheese.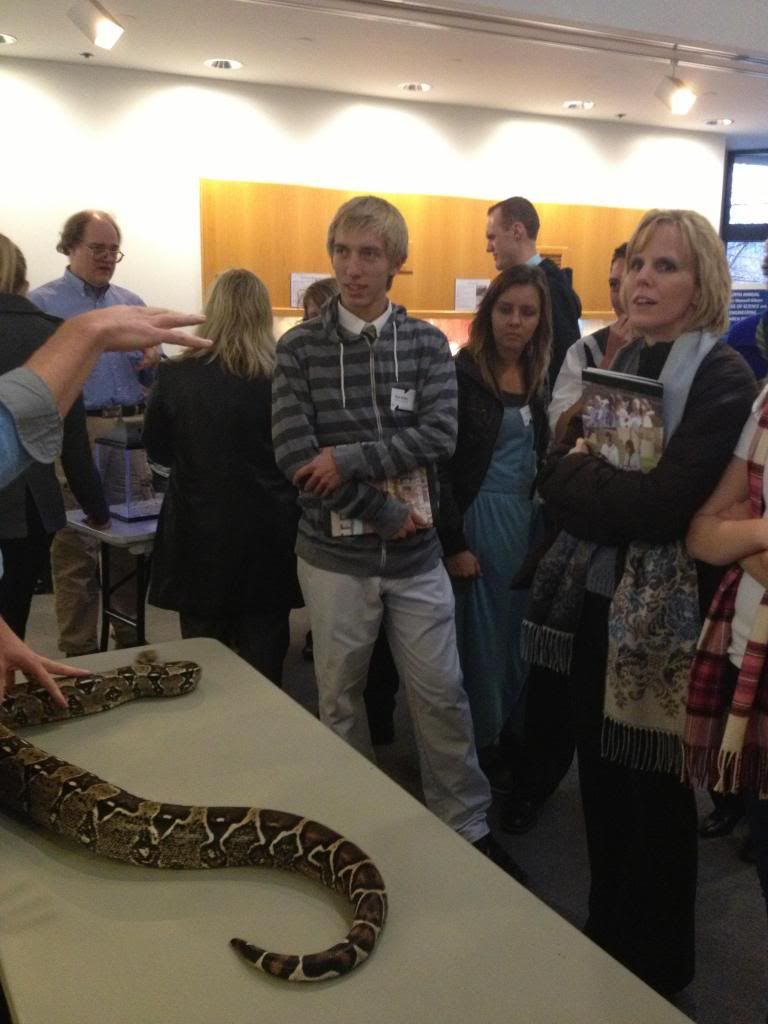 Met this lovely creature at SUU's Distinguished Scholars Day.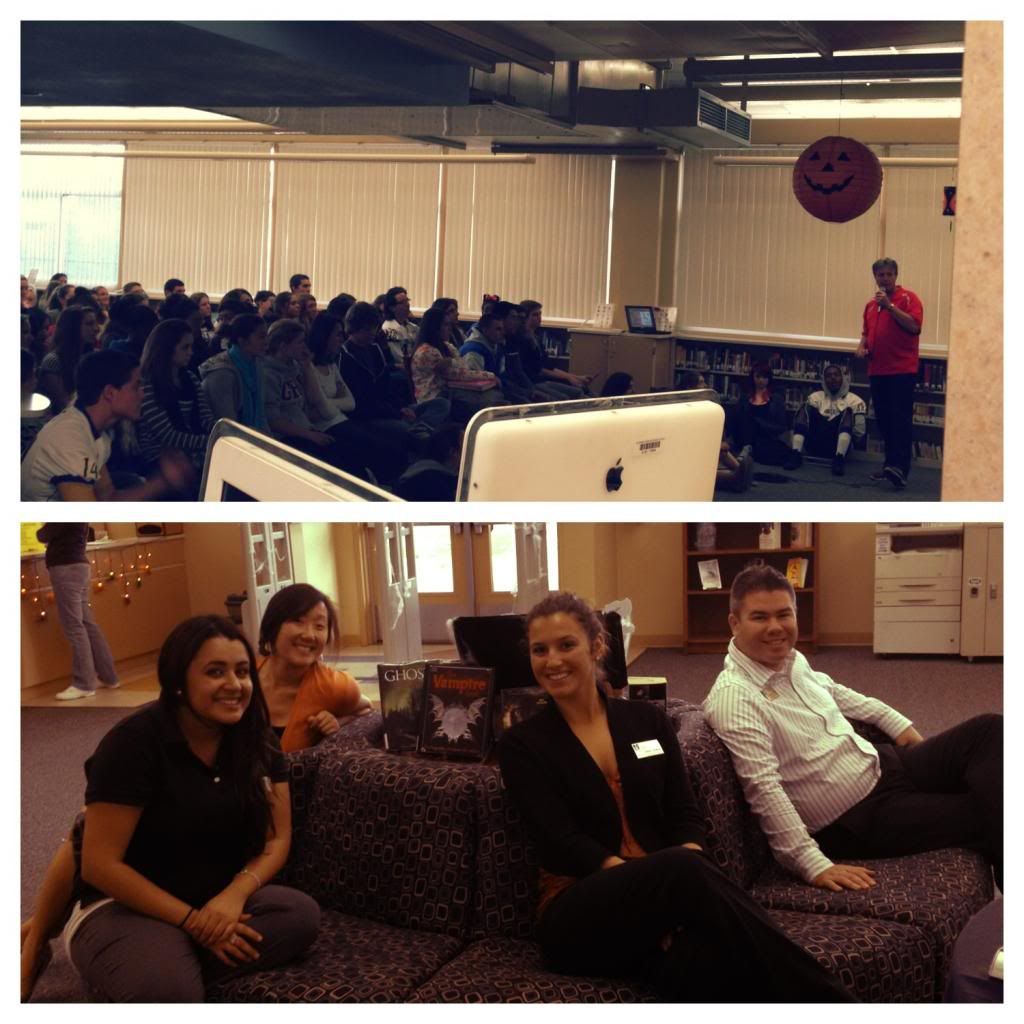 Presenting with RACC [Regional Admissions Counselors of California] at Grossmont High School , San Diego. We are a dysfunctional family on the road.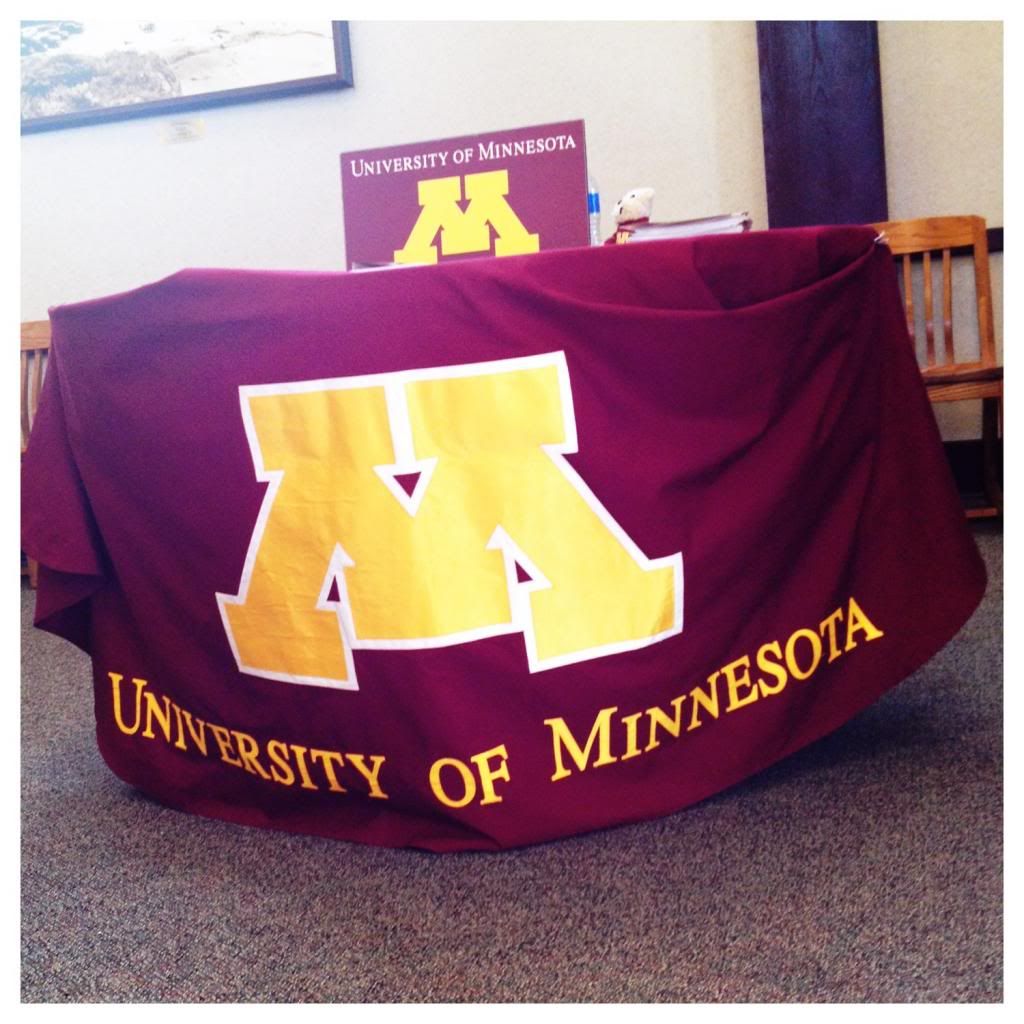 One thing you hate in the recruiting world -- a round table. My friend Kristi from U of Minnesota wins the award for making her rectangular table cloth rock on this round table.
The view from an event with Solutions San Diego - a non-profit organization that helps students find their college fit. Their donors lend us their homes for a Sunday afternoon to meet with students. I had a view of the Pacific & Del Mar Racetrack. Made me happy to be working on the weekend.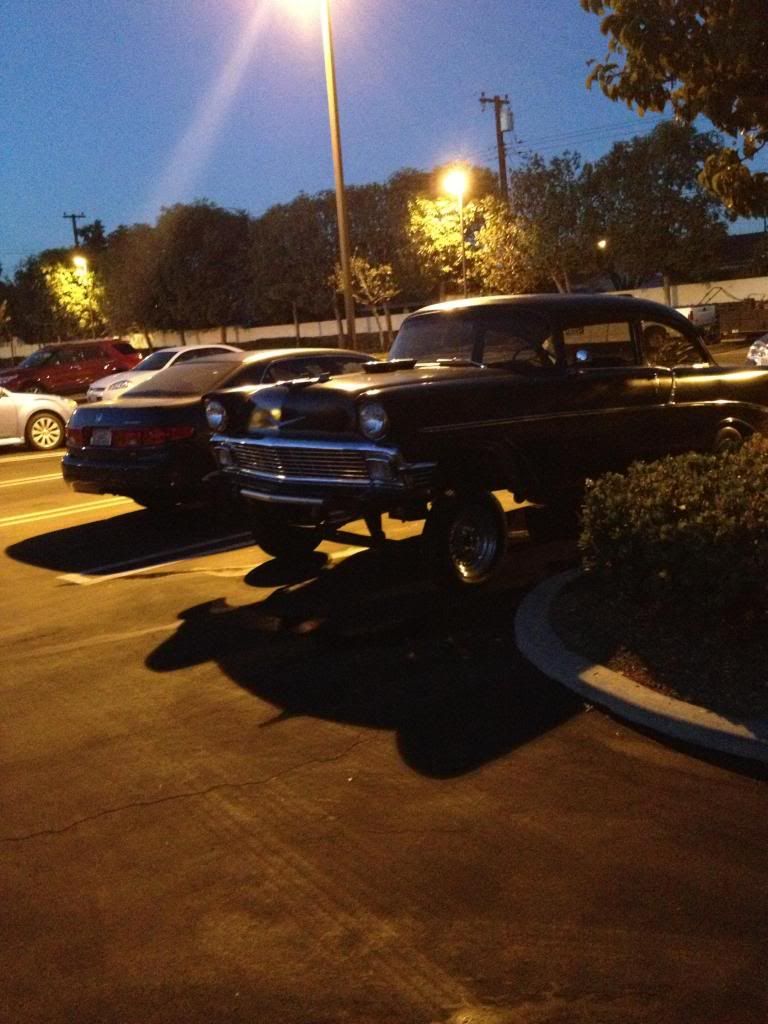 Parked at my hotel in Anaheim - Only in So. Cal.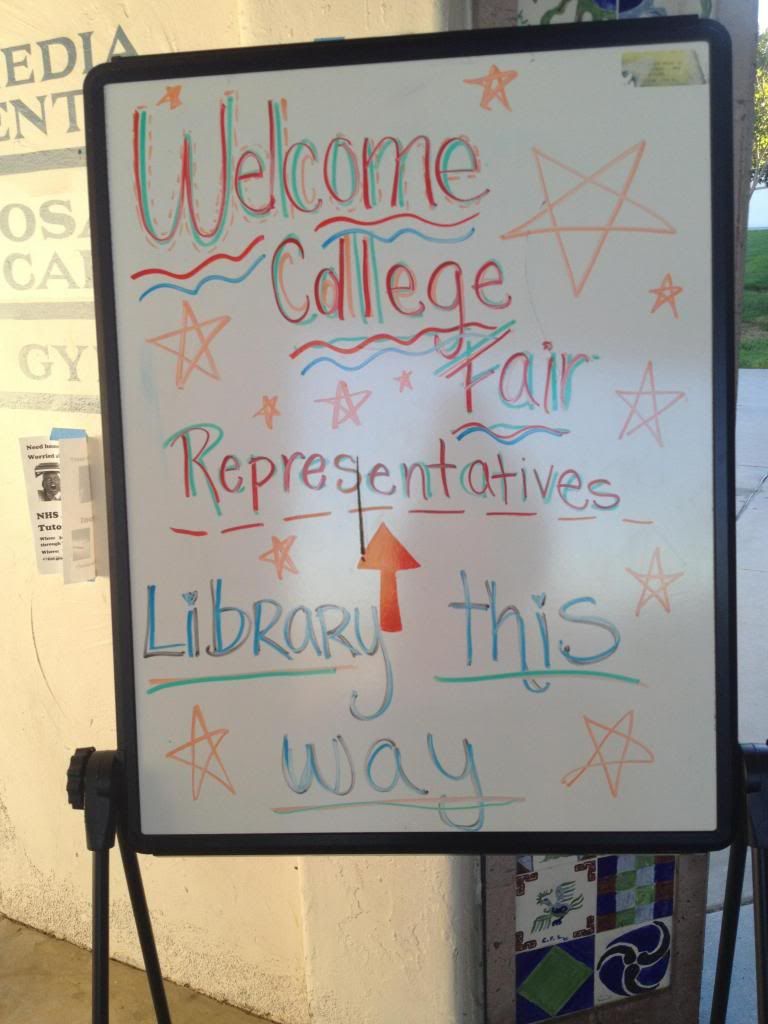 Like a shining beacon when you arrive at at high school & have no clue where you are headed.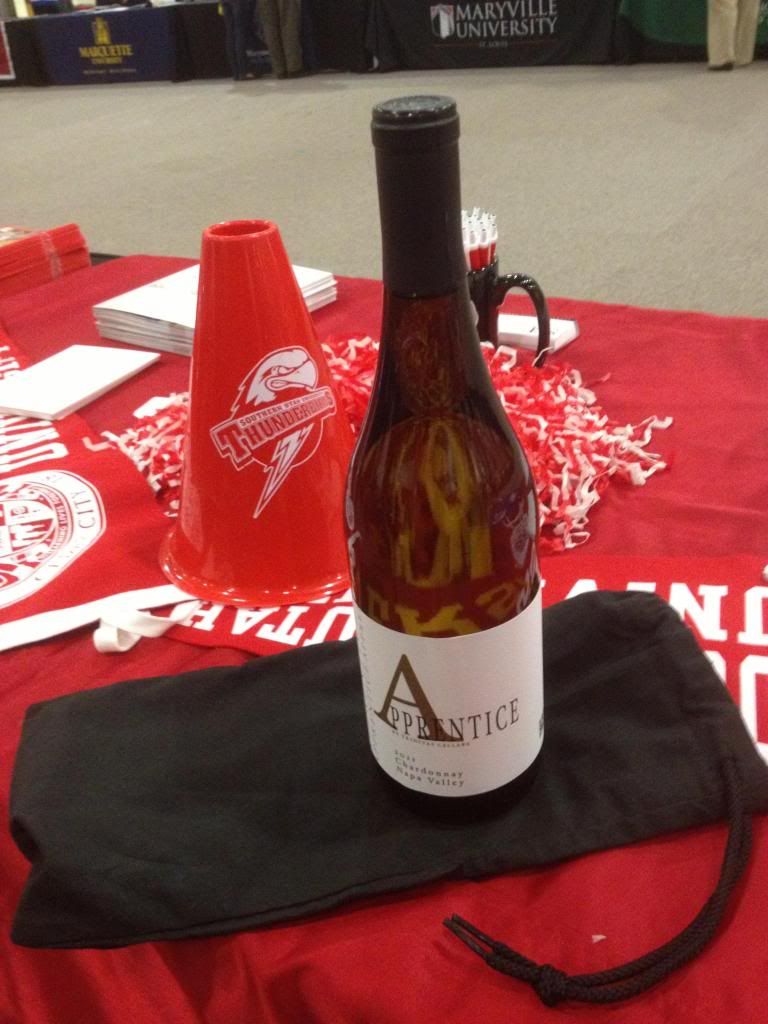 This particular private Catholic high school hosted us well - Our parting gift was a bottle of wine.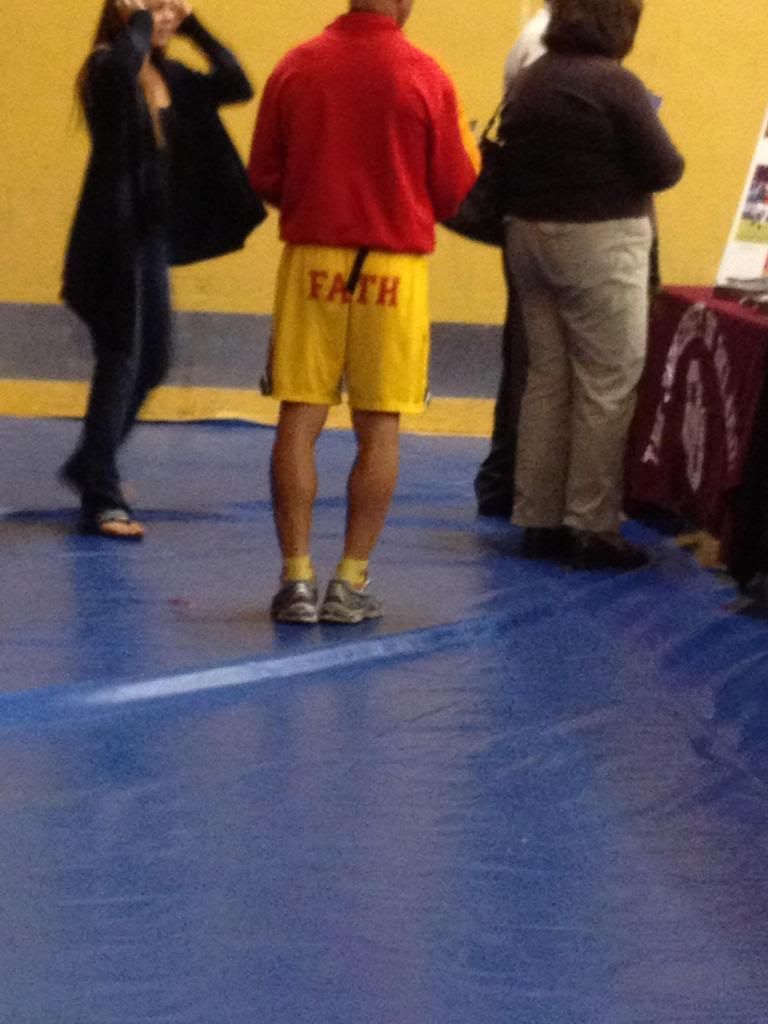 Totally mean. Totally worth adding to the gallery of stupid things we see at college fairs. High school PE teacher totally showing us his motto ... on his behind.
The never-stops Las Vegas College Fair Plus. SUU buys 8 booths & dominates the place.
Out with RACC presenting at Del Norte High School - San Diego.
That's my friend Alli talking - We share of love of Target business clothes shopping together.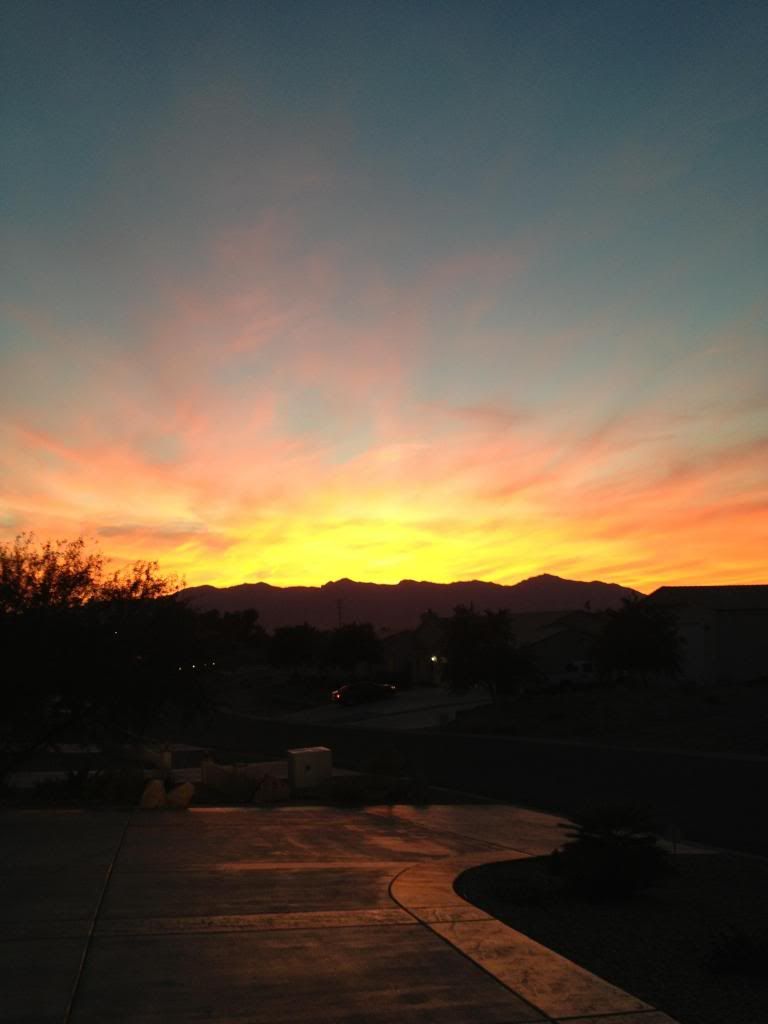 View from the driveway of a gracious alum in Bullhead City, AZ who hosts an SUU Open House
every few years.
She is a gem & has a gorgeous home.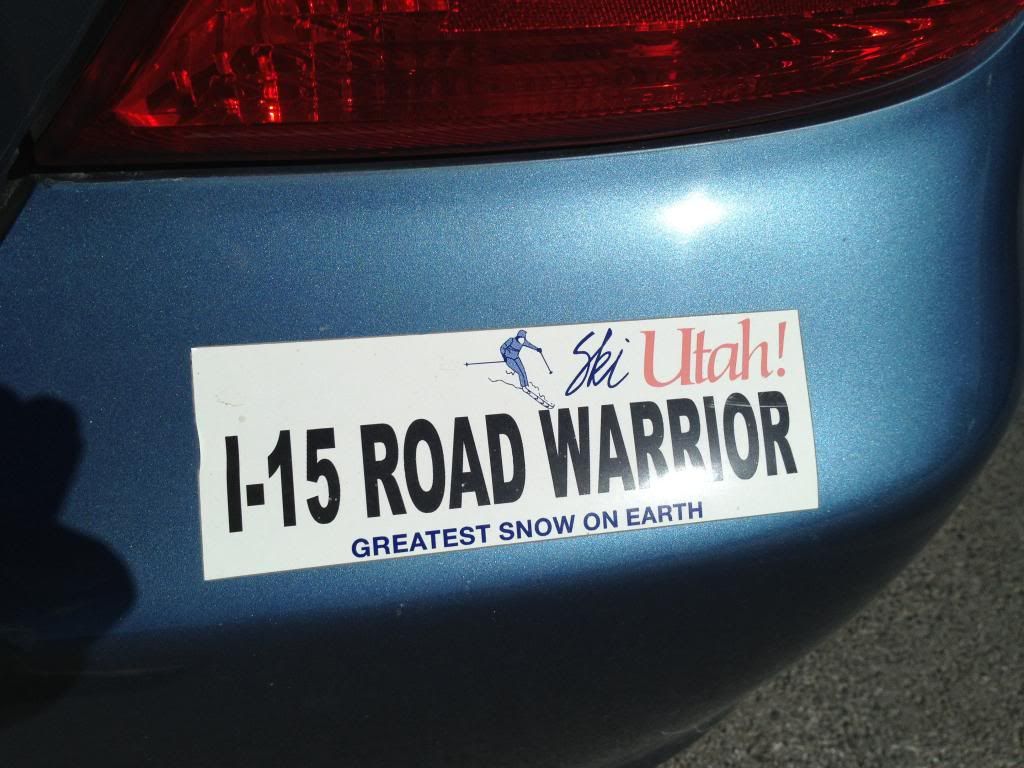 This belongs on my car.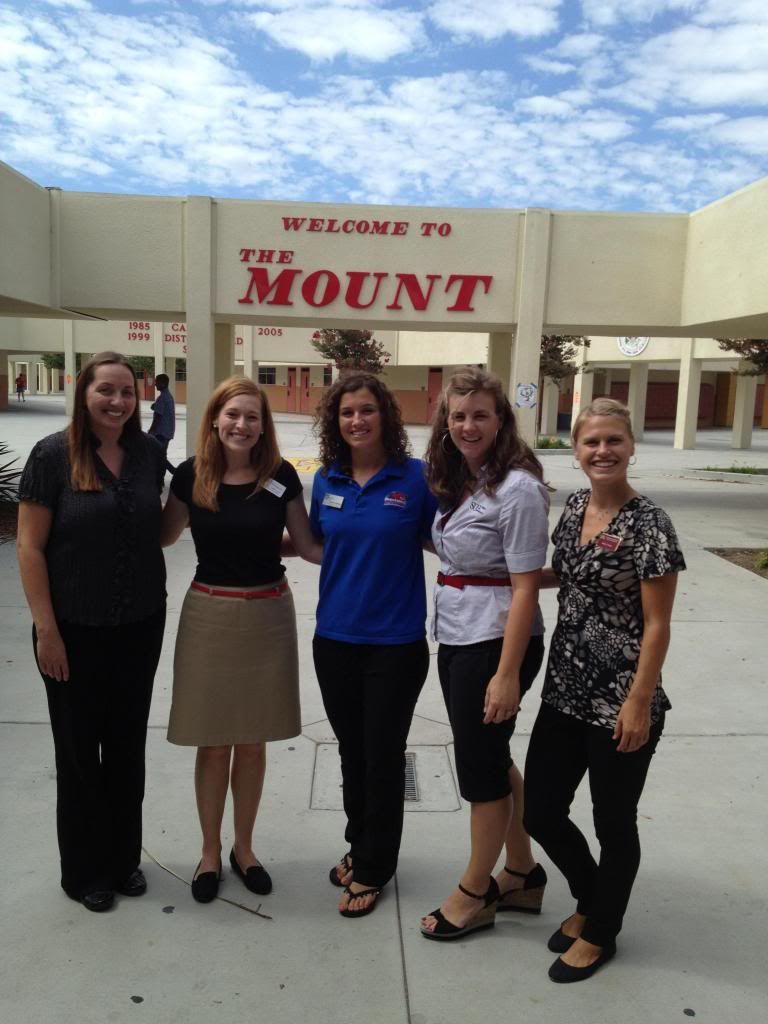 RACC at Mt. Carmel High School - San Diego.
The award for best dinner at college fair goes to Laguna Beach High School. We are pretty sure all the PTA Mom's maids made this meal. It was heavenly. Notice the Sprinkles cupcake. To die for!
Did have a moment to stop by my favorite Pacific overlook at Aliso Creek Beach in Orange County before heading to a fair. Take a deep breath with me and say 'aaahhhh.....'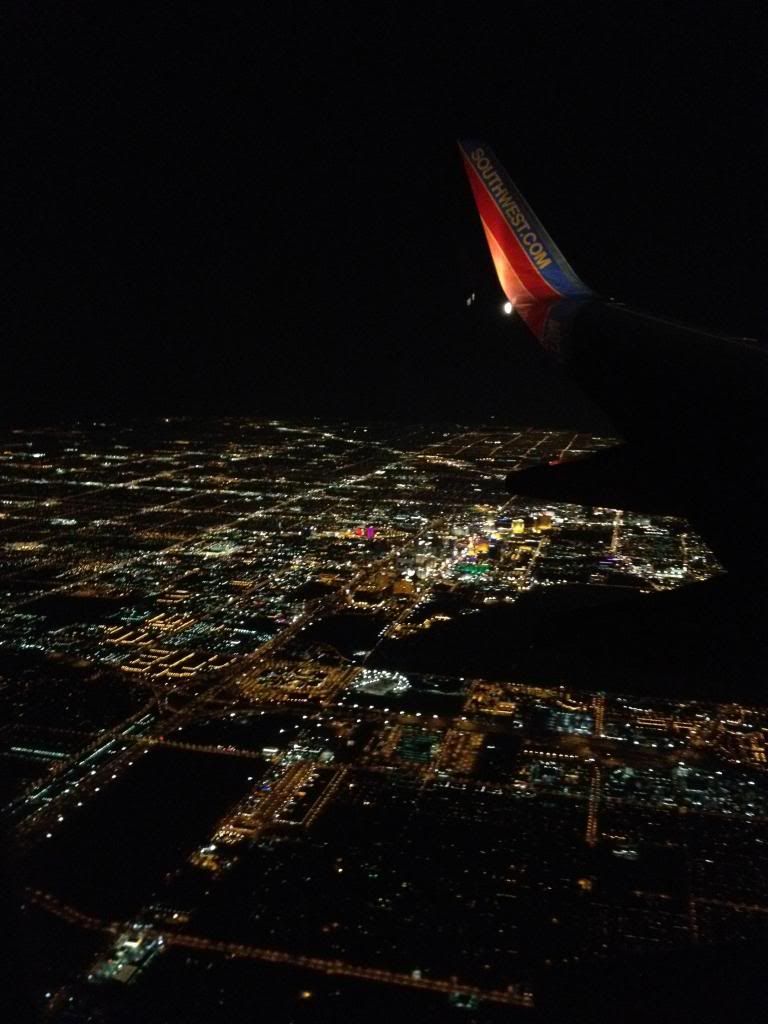 The view flying into Las Vegas for 16 SUU events in 5 days.
Hands down - biggest laugh of the season came when this school showed up to numerous college fairs. The dudes at their table were a little shady & loved the high school girls. They are in fact a real hair school.